Meet the Nora Girls Fund Winner: Lauren
Hey Lauren, what are you doing right now?
I am currently completing a Master of Science at Simon Fraser University (British Columbia, Canada) in partnership with Ocean Wise Conservation Association. My research is focused in the Arctic and explores the ingestion of microplastics by zooplankton, and the potential effects to their health as a result of eating plastic.
Microplastics are plastic particles that are less than 5 mm in size. They are found everywhere in the ocean from surface to seabed, and are recognized as a potential threat to the ocean ecosystem. Microplastics are being eaten by all types of marine life from microscopic zooplankton to whales!
What inspired you to take your Master of Science?
When I was nine years old I was on holiday in Mexico with my family. Like many others, I loved the ocean and was enamoured with marine life. I remember the thought of leaving was really upsetting, and I asked my parents why we could only stay for one week out of the whole year. My mom essentially explained the basics of adult employment, and told me that if I wanted to feel like I was on vacation while working I should think about becoming a marine biologist. I never let that go.
Over a decade later I finished my undergraduate degree and became a marine biologist. I moved to British Columbia to be by the ocean and started working. I had always been supported by my family to pursue higher education and I knew that a master's degree was my next step. My move to BC was in part to achieve this goal – work or school, whichever came first.
What is your ultimate goal?
My ultimate goal is to continue to work in a field that I couldn't picture myself apart from. For over two decades that has been marine science. In this field I have lived in, and travelled to, the upper and middle latitudes of this Earth learning about marine life. I have observed the ocean from within by way of scuba dive, and above through aerial marine mammal surveys. I have excited, and been excited by, many people.
My ultimate goal is that; continue to be excited about my life and what I choose to do with it.
Tell us about the Ocean Wise Conservation Association
Ocean Wise Conservation Association is a global not-for-profit organization with more than 1,500 staff and volunteers dedicated to making sure our oceans are healthy and thriving.
"Our mission is to inspire the global community to become Ocean Wise by increasing its understanding, wonder, and appreciation for our oceans."
To achieve this mission Ocean Wise focuses on engagement, research, and education.
I work at Ocean Wise's Coastal Ocean Research Institute (CORI) in the Plastics Lab. We have a team of people working on a variety of projects including microplastics in seawater, sediment, mussels, fish, and whales. The Plastics Lab also examines microplastic shedding during laundry, and outputs into the marine environment from wastewater treatment plants.
What is something most people don't know about microplastics?
Plastic is made from petroleum (crude oil), which is a naturally occurring liquid beneath the Earth's surface. Oil, like many other persistent organic pollutants (POPs), is hydrophobic which means that it repels water. When two hydrophobic compounds come into contact in the ocean, they tend to stick together. This means that microplastics attract other pollutants and can be covered with high concentrations of pesticides, other oils, solvents, adhesives, etc. Scientists are currently examining what happens to the compounds stuck to microplastics inside the guts of animals who ingest them.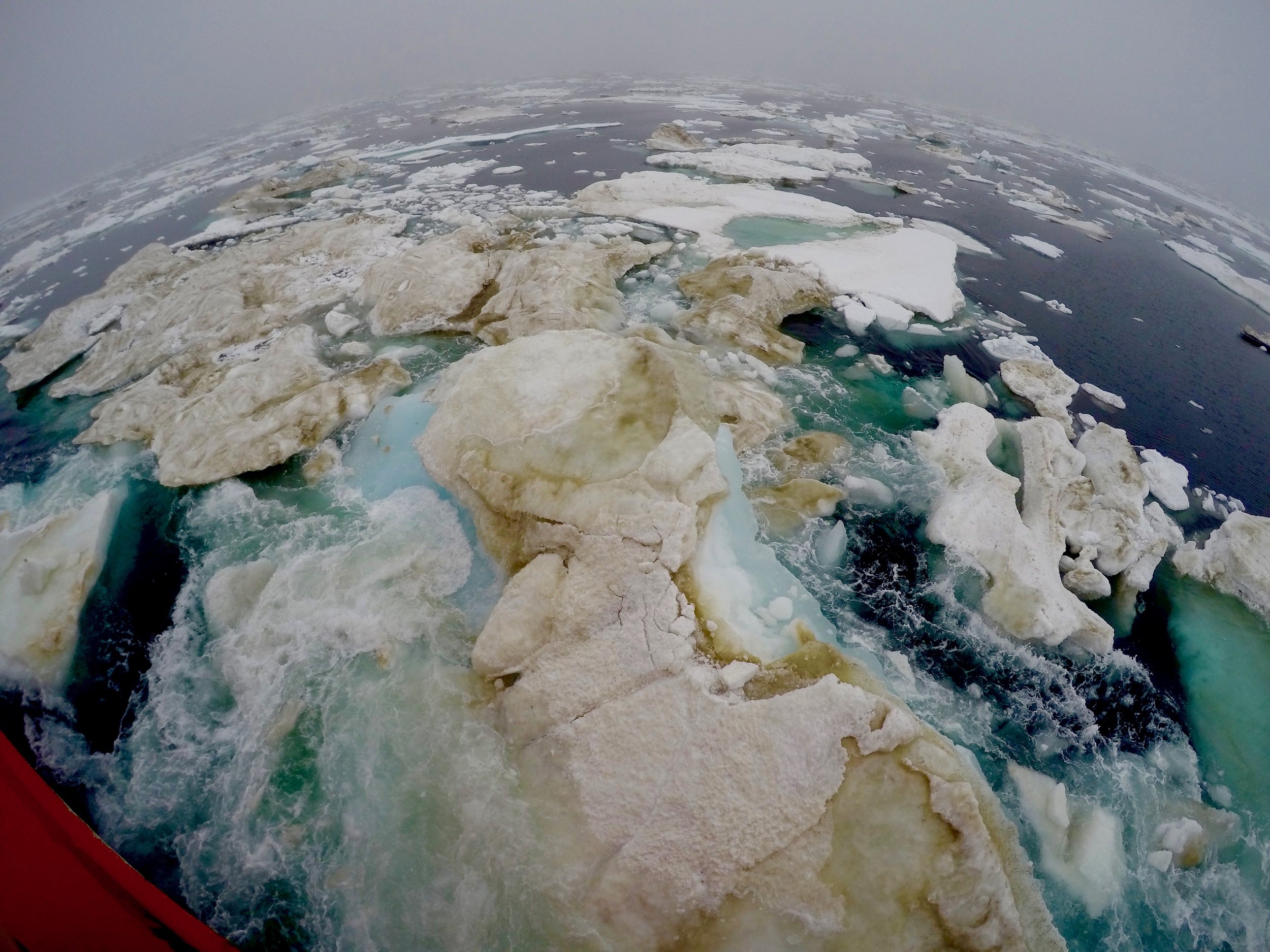 I took this off the side of the icebreaker – the CCGS Sir Wilfrid Laurier.
I collected my zooplankton samples from this and later tested them in the microplastics lab.
-Lauren
Do you feel there is a lack of representation of women in your field of study?
Yes, there is a lack of representation of women in STEM fields (science, technology, engineering, and math) overall. However, I am part of a new generation of young women entering the field of science en masse, and therefore find myself surrounded by strong intelligent women most days. Of all the young people who have contacted me to talk about my path to becoming a marine biologist, most have been female. I know we are seeing a change.

What are three facts about yourself?
I have spent over 250 days at sea so far

If I wasn't a marine biologist, I would like to be a cinematographer

I have an unrealistic fear of bees
Where do you live and where is your favourite place to visit?
I live in Vancouver, BC, Canada, in a cool neighbourhood filled with young people, coffee shops, and microbreweries. It's the best! My favourite place to visit is Hornby Island. Hornby is one of the Northern Gulf Islands in the Salish Sea, between the mainland and Vancouver Island. It has many marvels including white sand beaches, many incredible stretches of intertidal, a store where everything is free, and a creative community of people. My partner's family has a cabin on Hornby; I am fortunate to be able to stay – for both the company and experience!
You can have many passions, that's what makes you, you. What are some other things you are passionate about?
Photography

Traveling to places that aren't people's first choice

Scuba diving

Educating people, especially young people, about the ocean (I know it's supposed to be other things!)

How did the Nora Girls Fund help you?
The Nora Girls Fund helped me feel appreciated and recognized in what I am doing. Research is often a long game of trials and tribulations. It's difficult to keep your goal in sight when things aren't working out, which I understand, is part of the learning (can I please insert an eyeroll in here, ha!). I put this fund toward my tuition for the term ahead, but also towards my inner momentum. What I'm doing is cool and I appreciated the reminder!
What is your favourite Nora Swim?
———
Nora Swimwear started out with the vision of empowering women around the world. For the first year and a half, we gave back a portion of each sale to an organization that gave women in low income situations a micro loan. While we still support and love this organization, we decided we wanted to give back in our own way.
We're determined to have our vision of empowerment come full-circle and give women the extra push to go after their dream.
The Nora Girls Fund is a bursary that will be awarded to women with a mission. Whether it be a business idea, a research project, a campaign for change, or help with tuition, the Nora Girls Fund is open to any woman who needs the support.
If you know someone or would like to apply for the Nora Girls Fund yourself, please visit this page.