Travel Diary: Miami
Last month, part of the Nora team had the opportunity to travel to Miami for one of the biggest swimwear events of the year: Miami Swim Week. We also went to shoot our 2018 spring collection with one of our original Nora models, Elizabeth Brodeur.
Our trip was hectic, amazing, and inspiring, and we want to share as much of it as we can with you guys.
We (Ashley and Alex) arrived to Miami bright and early on Tuesday July 18 and were SUPER eager to hit the beach. (It's not everyday that us Canadians get to experience 30+ degree weather.)
South Beach was beautiful— the water was light turquoise and as warm as a bathtub. Even when the clouds were covering the sun, it was still extremely hot.
We hit the beach as much as we could during our trip, and made sure to bring along our snacks, sunscreen, and tanning sprays and oils.
Ashley's pick: The Fox Tan combo pack
Alex's pick:The Cacao Tanning Oil by Bali Body—it helps to nourish darker skin. I ended up getting a really nice tan with some deep red undertones.
Accommodations:
We stayed at the Gates Hotel on South Beach, and our accommodations provided us with two free beach chairs and towels every day. Upon our arrival, they welcomed us with delicious cookies and had fresh lemon water in the lobby. The staff took great care of packages that we had delivered to the hotel. Shoutout to DHL to delivering the new suits on time for our photoshoot!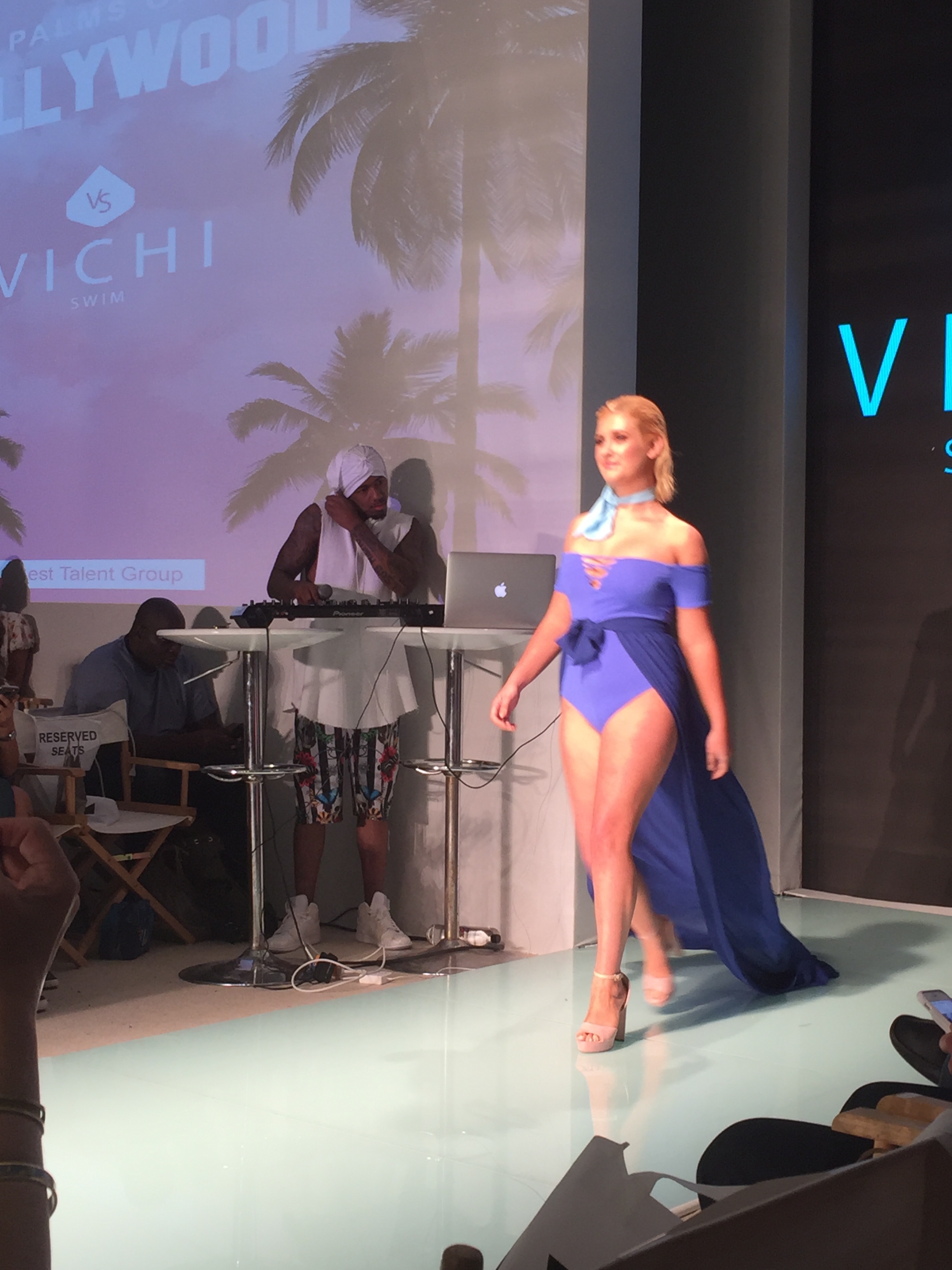 The fashion shows and events at Funkshion (a production company that puts on shows for Miami Swim Week) kept us busy between catching some rays in the afternoon. It was amazing to see all the hard work that goes into the shows from the designers to the make up artists, and even the playlist! (For the Art Hearts Fashion show, Nick Cannon was the presenter and DJ!)
The shows also gave us an excuse to dress up and show off our shoes from Call it Spring.
Here are some of our looks broken down:
Ashley's looks:
Outfit one: Lace dress (Forever 21) beige bodysuit (Forever 21) beige heels (Spring)
Outfit two: Green skirt (Forever 21) bodysuit (Missguided) block wedges (Spring)
Outfit three: Red dress (Missguided) heels (Spring)
Outfit four: Paisley blue dress (Missguided)
Alex's looks:
#1. Heels, heels, and more heels
In Miami, we found that not only is it completely acceptable to wear heels at any occasions, but it's almost mandatory. During swim week in Miami, people wore heels while shopping, to fashion shows, to after parties, and even to pool parties! We are so lucky that we got to partner with Spring to provide us with amazing heels while we were away!
On our second day there, we treated ourselves to a pedicure so people wouldn't run away when they saw our feet. We went to a spot called Nail Republic in South Beach and spent the morning getting a mani and pedi before our hectic/exciting week started.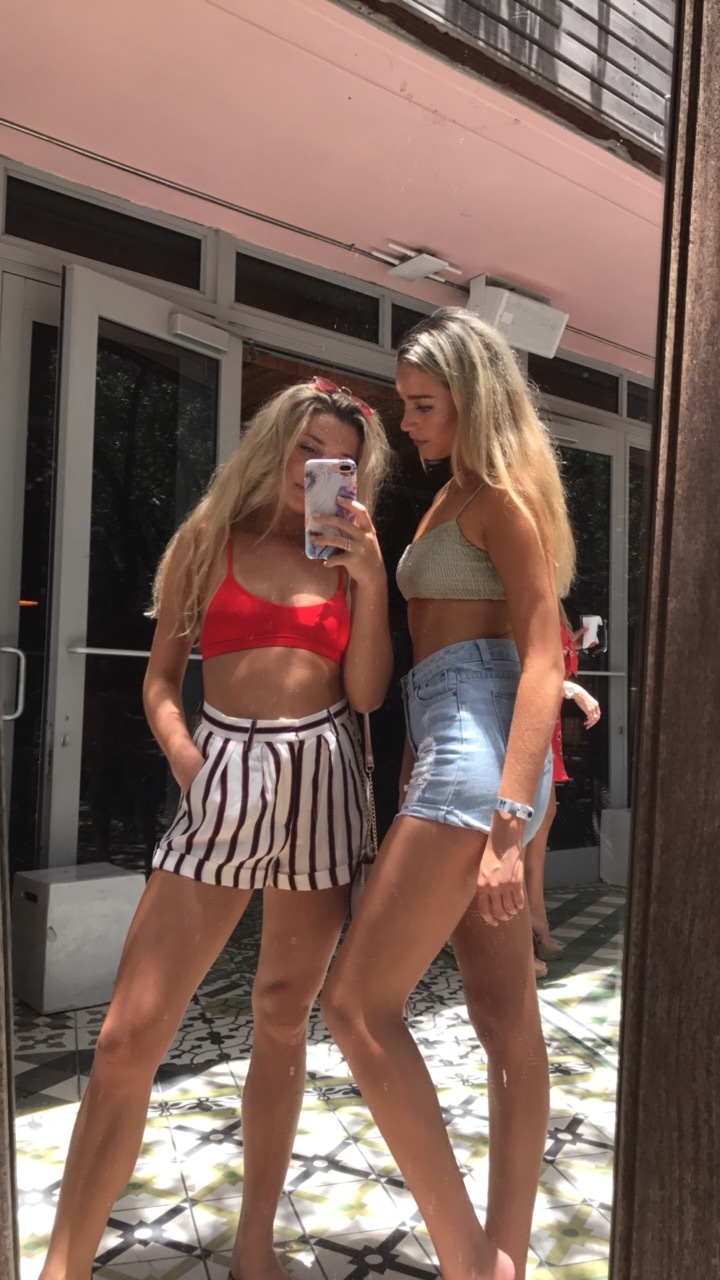 2. Don't compare yourself, be confident
I think we all felt a little intimidated during our trip. How could we not? We were literally surrounded by hundreds of stunning models and celebrities. It was extremely important to remind ourselves that everyone started somewhere, and to be confident in who we are and what we were there to do.
3. Fuel up with healthy food
Since we were on the go so much, it was really important for us to eat, and to eat HEALTHY. Of course, we indulged in some snacks (we went through a lot of chips and chocolate bars) but we made a point to put good things into our bodies so we could have lots of energy for the week.
Our favourite place to eat by far was Pura Vida, a super food restaurant that was also vegan-friendly and specialized in unique bowls, wraps, and smoothies.
4. Put yourself out there
Don't ever be afraid to go up and talk to someone that you want to meet, or that you think could help you further yourself in your career. While we were away, we had the opportunity to meet models, photographers, and even MJ Day, the editor from Sports Illustrated Swimsuit Issue. These people NEVER came up to us, we always approached them, and each meeting was a positive experience. In order to get to the top, you have to put yourself out there, and we want to encourage and pass on that message to all of you!
In sum, Miami was an amazing experience, and we plan to return next year to represent Nora Swimwear once again, and to network and indulge ourselves in new opportunities!
Miami, we miss you already!!
xx,
The Nora Team